SODA (School of Digital Arts)
Project: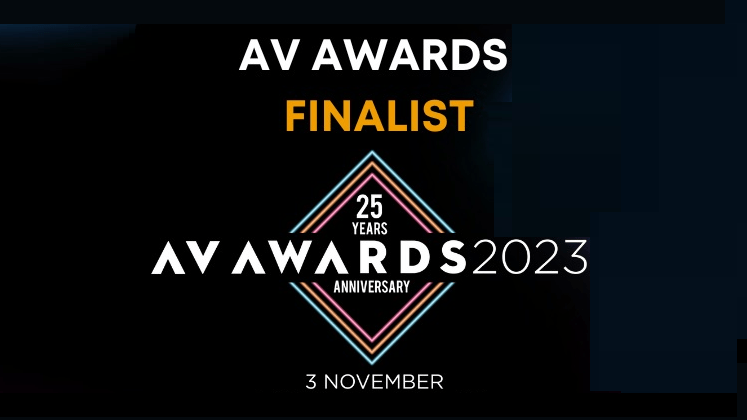 The Client
The School of Digital Arts (SODA) at Manchester Metropolitan University is a £35M investment that offers industry informed courses and specialist spaces with the latest technologies. SODA is a proud part of Manchester Metropolitan University that builds on the creative, science, tech and business strengths of a university whose research is rated as 'world-leading' and is changing the way we live, work, learn and play. SODA also builds on the strengths and reputation of Manchester School of Art. Rated sixth in the UK for its research power, and with a history of generating ideas and innovation that stretches back 180 years, Manchester School of Art has pioneered the interdisciplinary approach that will guide learning at SODA.

Overview
A new build project from concept to completion including over 35 specialist spaces. These include meeting and seminar rooms, computer labs, screening rooms and a stunning 3.6m LED wall in the reception area. A key objective for this project was to utilise new technologies such as AV Over IP throughout the entire building. This reduces hardware maintenance and future proofs the building for scalable user / room enhancements & changes for many years to come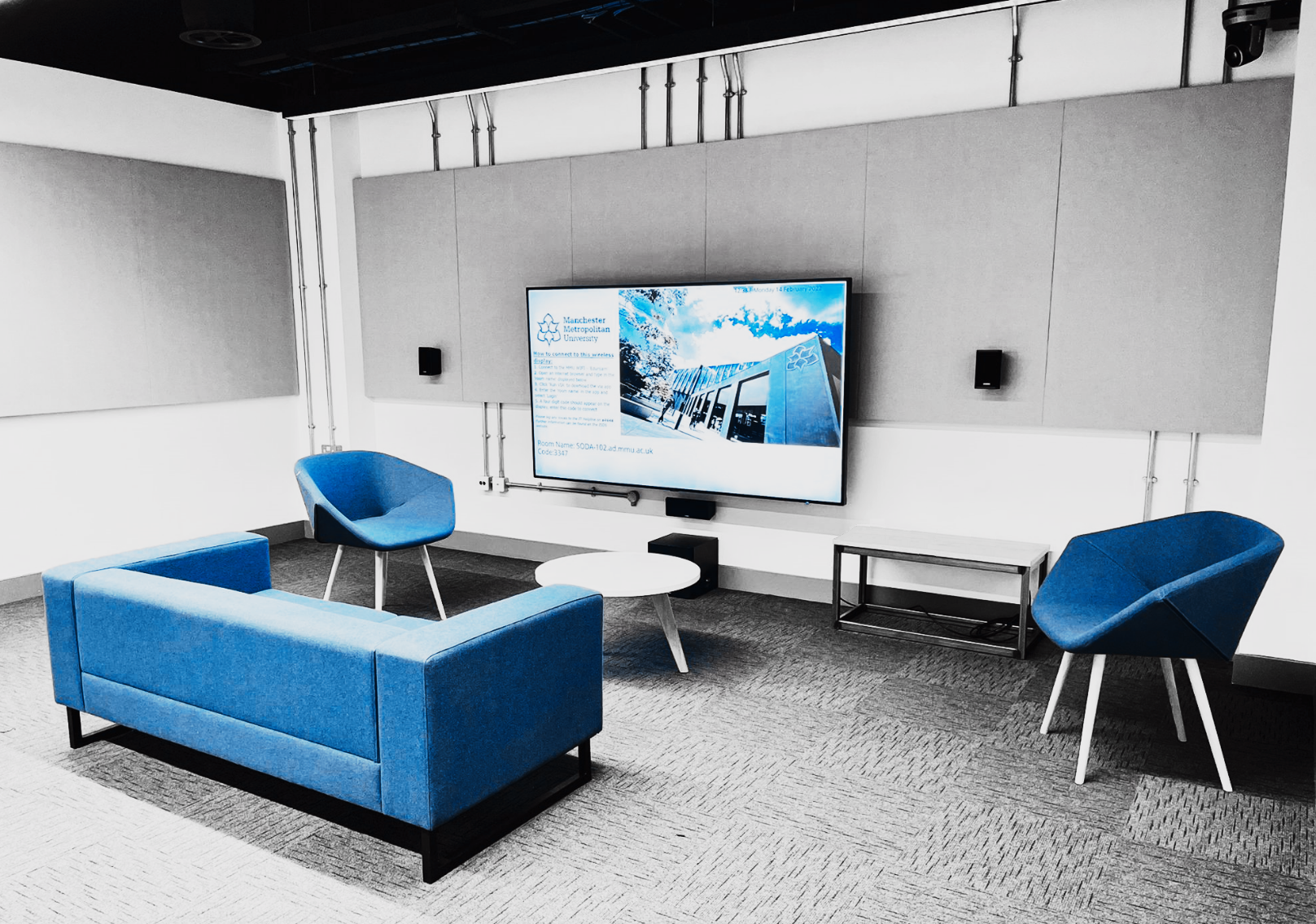 Product and Brand Highlights
100+ Crestron NVX AV over IP Encoders/Decoders
35+ Crestron Processors and Touch Panels
35+ Kramer Wireless Presentation Gateways
2x Digital Projection e-Vision 4K Laser Projectors
20+ NEC Professional Large Format Displays
1x LG 3.6m LED Wall
15+ Onelan Digital Signage Players
Completion Dates
June: Pre Order review of consultancy designed concept, design refreshments & quotation
February: MMU Order Placement
February – May: System enhancements, design changes, value add solutions & Procurement
February – December: Control system design, network coordination and implementation
August - December: Phased site works Inc Logistics, Installation, Commissioning & Training
October – December: End user system training, in room demonstrations & customer user manuals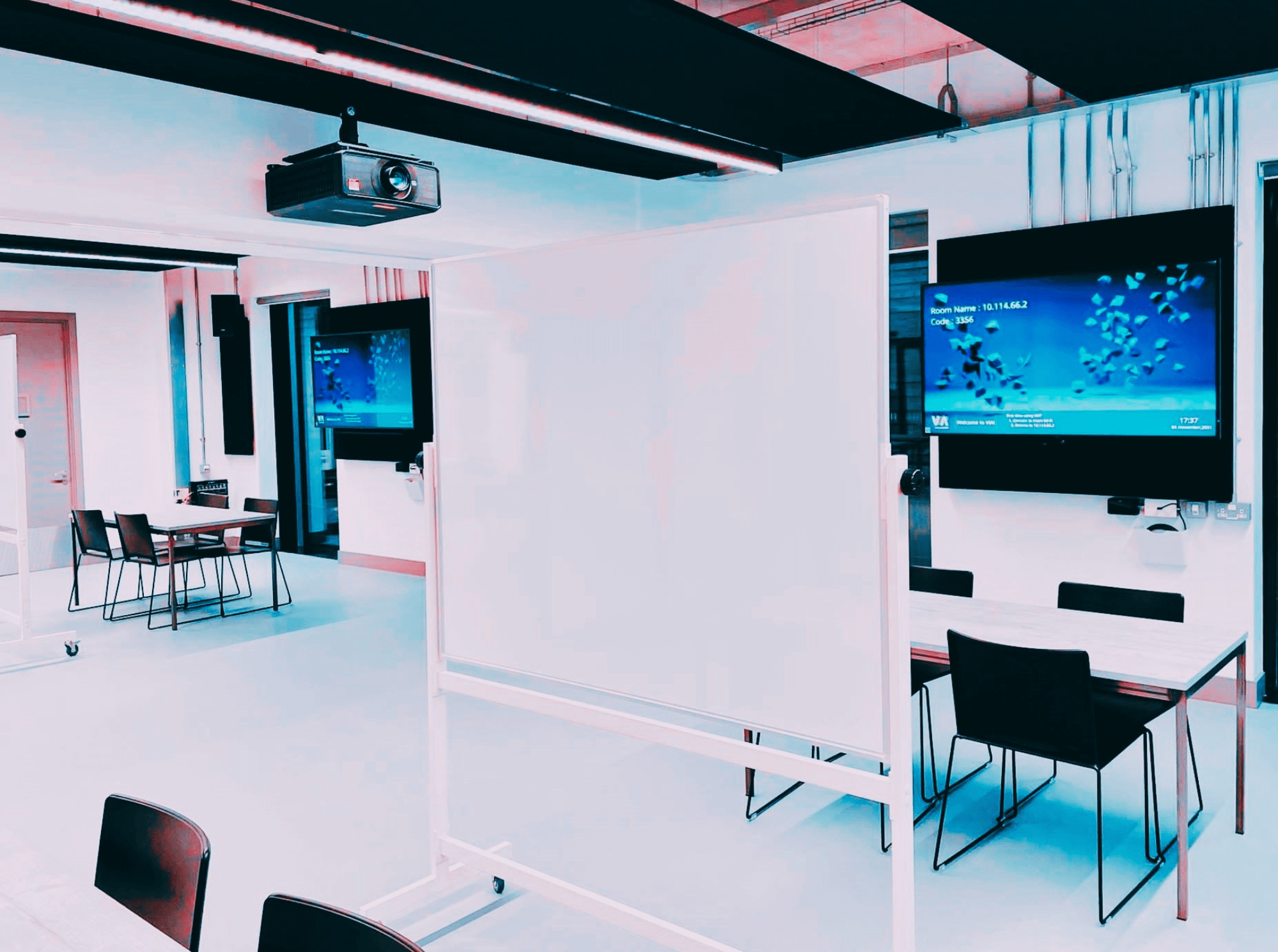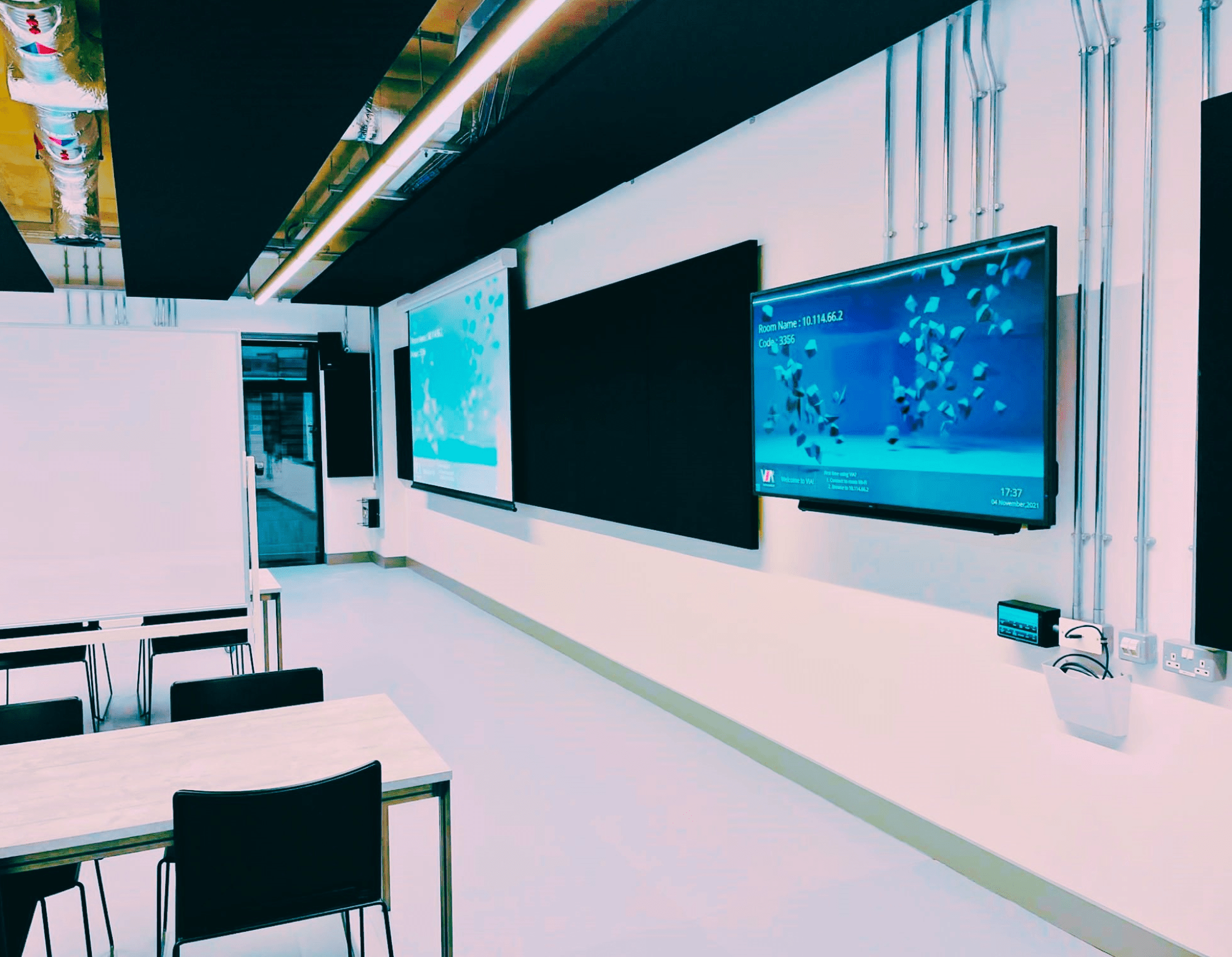 Project Journey
As sole approved AV integrator, Roche Audio Visual's detailed engagement for the completion of the AV works within this flagship new build were initiated in June 2020. The Universities estates team employed AV consultants Drama by Design to work in partnership with the building contractors and designers from other disciplines during phases 1 - 4 of the RIBA Plan of work process. A high-level AV technology system design was produced, and Roche AV were brought on board during stage 4 to evaluate and review the AV specification in line with the Universities core standards and brands. In line with this review Roche AV produced a detailed bill of materials with accurate costs. Each of the Roche designs were reviewed and several client engagement workshops took place until a solid bill of materials within budget was agreed.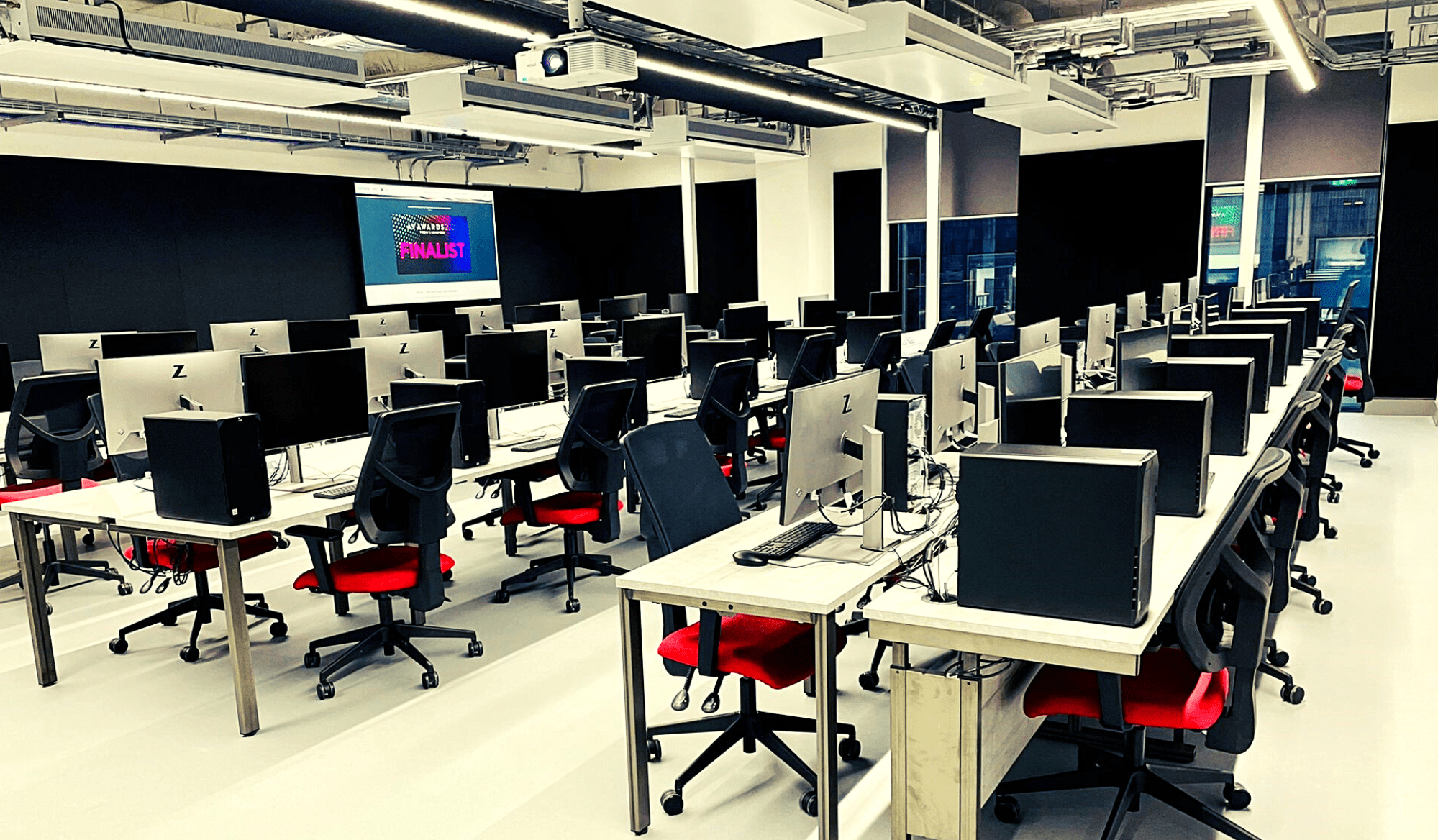 After agreement was reached, Roche AV coordinated the implementation, delivery and phased installation process with all relevant parties. This was done in collaboration with Drama by Design, who remained as a high-level consultant, ensuring the entire coordinated vision was executed from initial concept design to completion.
Throughout this journey, Roche AV produced, reviewed and renewed all detailed AV schematics and elevations. We also advised and coordinated all M&E requirements ensuring every detail was covered and documented. This process included a design log, change register, meeting minutes, issue register, room-by- room itinerary, induction loop designs, PC/IT details, Network port log, P&D requirements log, programming and networks log, rack layouts, RAM's, schematics, elevations, site walk notes and training notes.
On preparation of site works Roche AV produced a detailed phased schedule of works which was shared and updated with all key stakeholders and parties at monthly coordination meetings. This ensured a fluid order of works in line with all trades on site.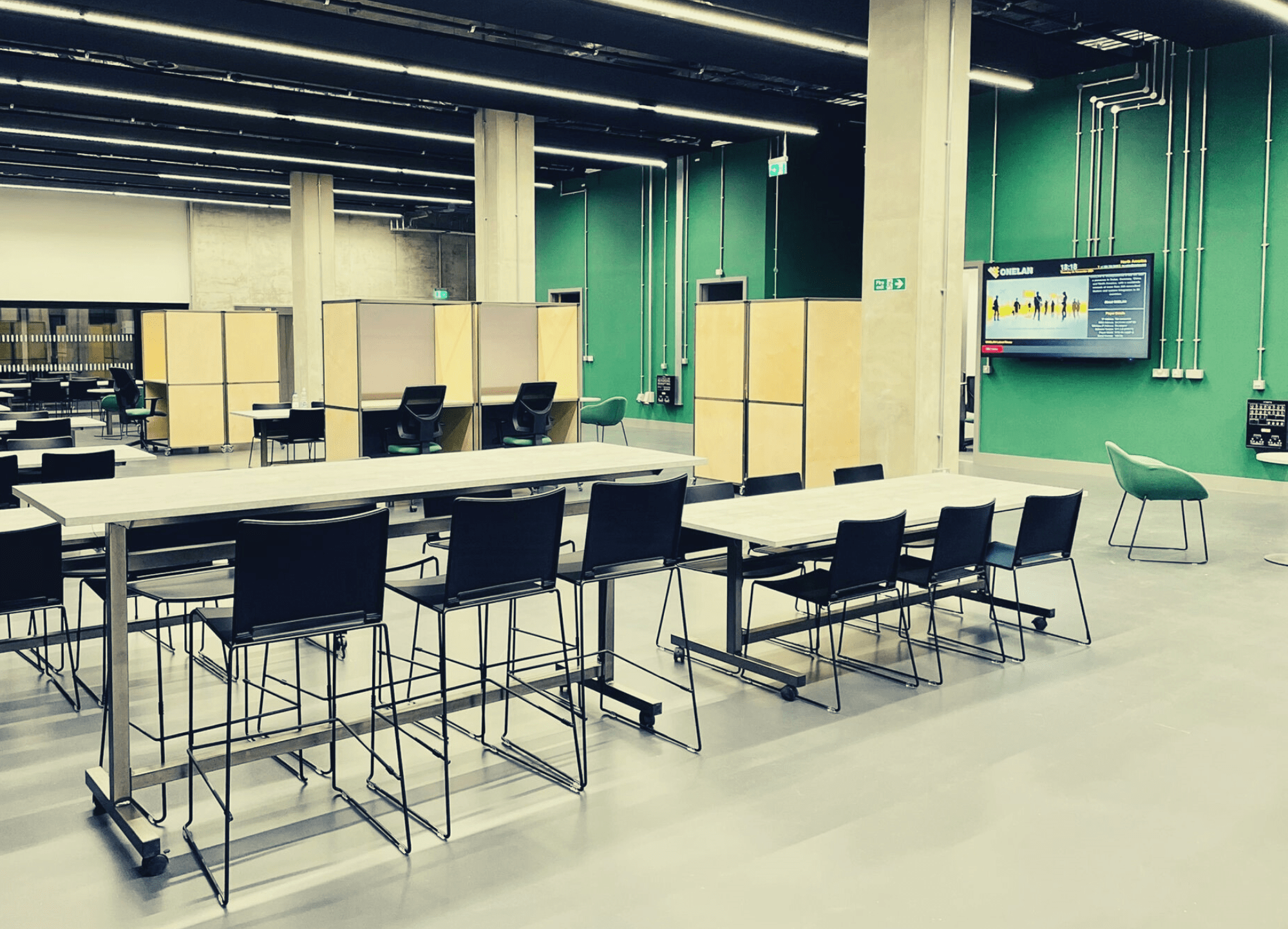 During the phased installation works Roche AV coordinated and managed all site deliveries including a complete closed loop delivery service which guaranteed the most efficient and sustainable delivery methods were utilised. This included the safe removal on waste from site which was recycled and re-used in line with our waste hierarchy and our ISO 14001:2015 environmental management process.
Due to the highly technical and networked AV over IP solutions utilised Roche AV allocated an in-house AV control system programmer and designer to work with the relevant parties throughout the entire passage. This gave peace of mind that when networks went live, each AV system would seamlessly work and sign-off / commissioning schedules were maintained.
On completion of the AV works a number of live, on-site user engagement sessions were then carried out in each space, these were subsequently backed up with bespoke user guides.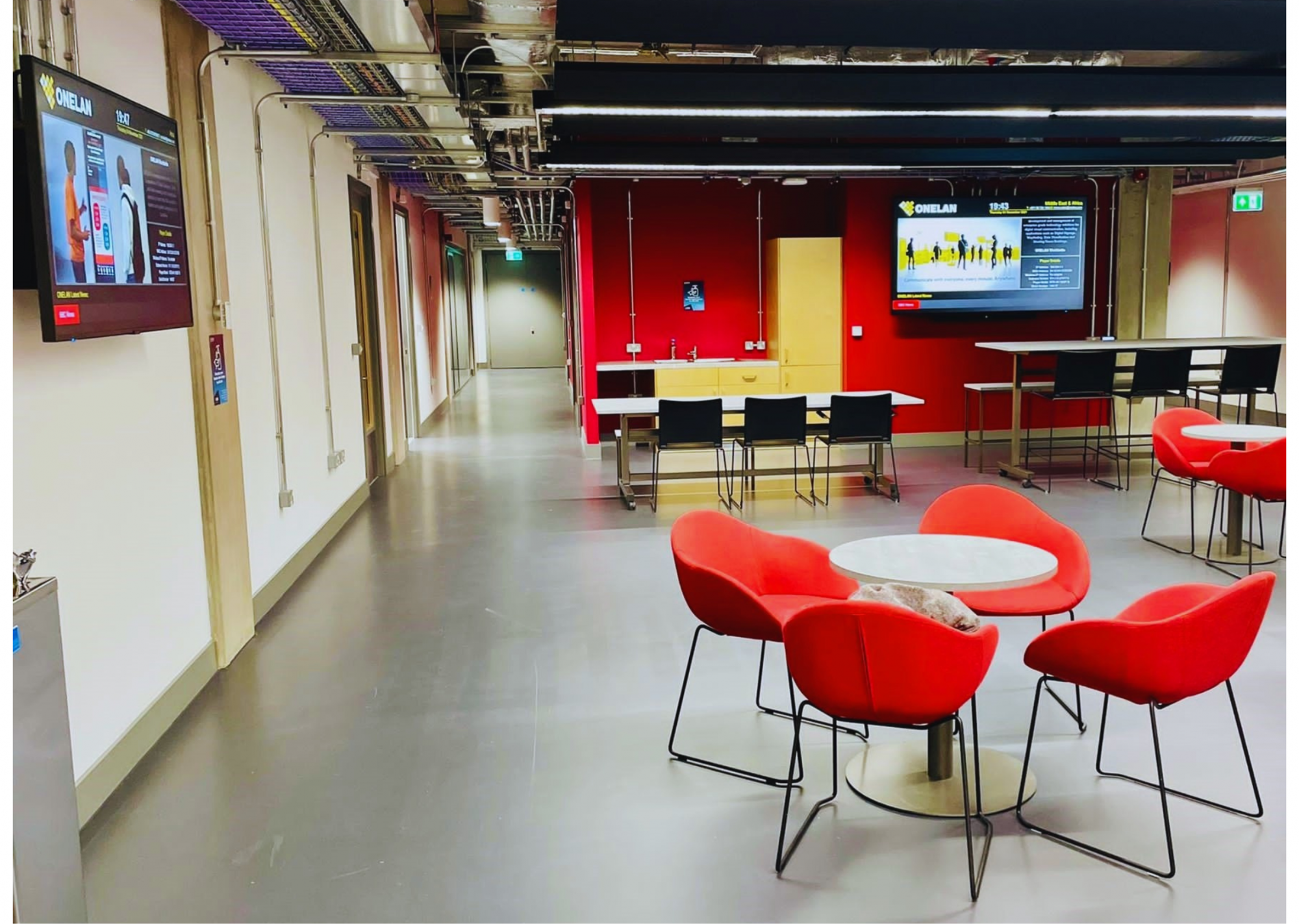 Due to the nature of works, this project always involved the highest levels of detail with sound continued coordination at all times. Roche AV's experienced and highly skilled project delivery team were key to the success of this entire process. The project has resulted in revolutionary AV systems throughout which all parties can be very proud of.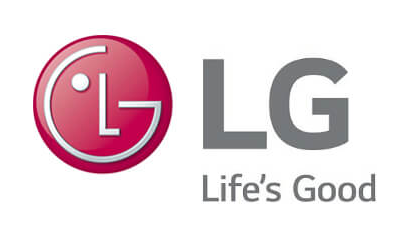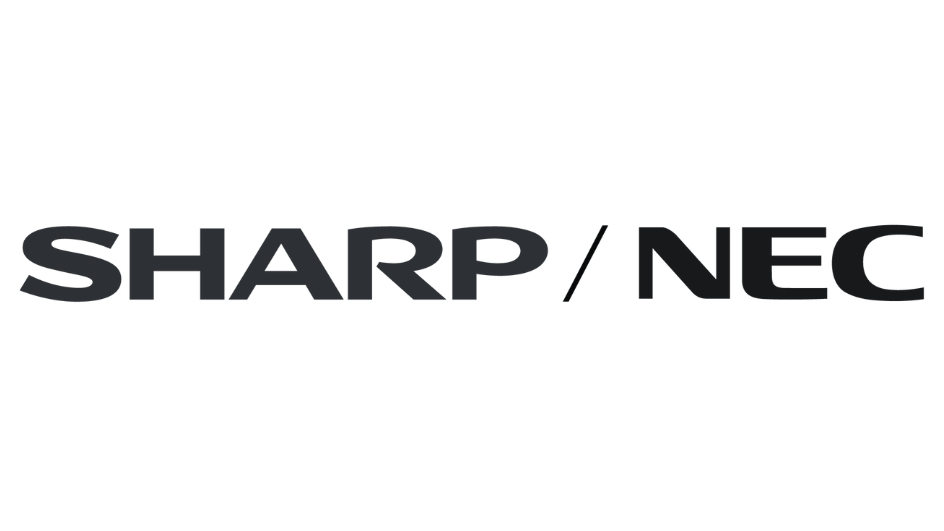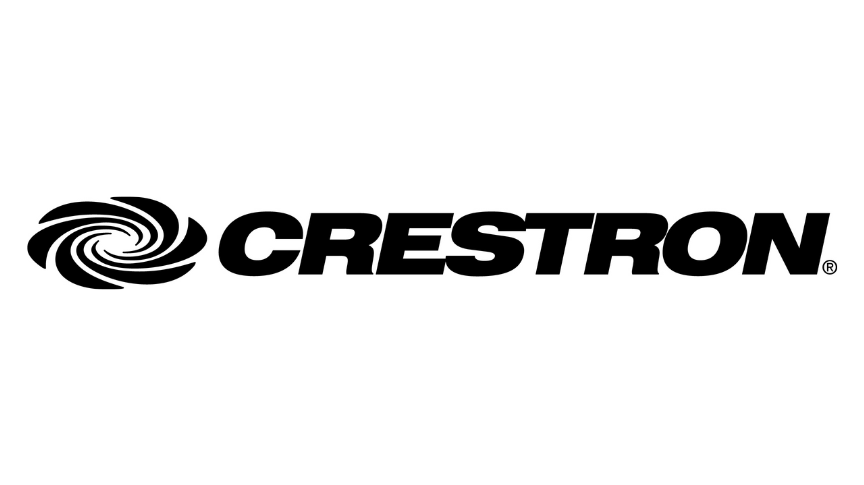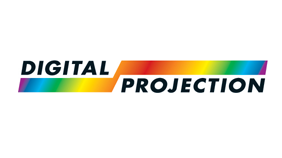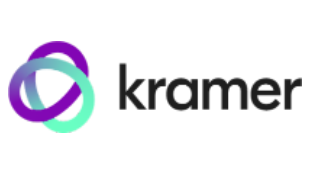 Outcome
This RIBA award-winning building was specially designed for now and the future. With spaces for collaboration and innovation, through to state of the art facilities, the building has been created with the capability to adapt and respond to emerging technologies. Utilising AVOIP technology provides over 35 expandable, efficient and sustainable systems which are both technology-driven and low-maintenance. Not only do they offer the latest technologies, but they are also flexible for all current and future media devices - and will help drive teaching and learning aids to the next level for years to come.